When it comes to strange celeb/musical relationships, there are some strange ones out there – we will come on to some corkers in a moment. The most recent, however, is one of the strangest and it's purely down to age difference. It seems this week, reports are suggesting that One Direction heartthrob Harry Styles and Rolling Stones old-timer Mick Jagger now have a 'firm' friendship.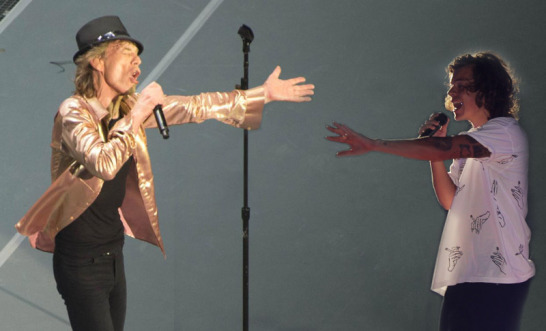 Harry, 20, is said to have struck up a bong with Mick, 71, with Mick stating Harry looked like a younger version of him. They have said to had swapped numbers and now regularly chat. I think we will leave that one there…
Let's take a look at some other bedazzling music/celeb friendships:
David Beckham & Snoop Dogg: Becks, from East London, is said to have become great pals with LA rapper Snoop Dogg after his move to the MLS. An unlikely BFFS, the two are said to play football together, whilst Becks is always first to get a taste of Snoop's new tunes.
50 Cent & Bette Midler: On paper, it just sounds ridiculous. Ghetto superstar 50 Cent is said to have met Bette in a charity event in NYC. They are now said to have a friendship with Midler stating "He's one of the newest members of our tribe. He has really made my life worth living." Right…
Eminem & Elton John: We aren't too sure this one is still ripe, but it goes way back. One of the most controversial rappers of our time, Slim Shadey, joined forces with Sir Elton back in 2001 at the Grammys. Since then, it is said Eminem has turned to Sir Elton for help getting sober.
How do you think these weird celebrity relationships match up against Harry and Mick's? Feel free to comment and let us know, or even tell us of some relationships that should have been mentioned!