10 years on and the Tomorrowland looks to have hit its peak in terms of prestige. What was once a special weekend, and not regurgitated twice in two weeks, has now spread so far it seems to have lost its touch. Veteran DJ David Guetta announced at the mainstage during his Sunday evening set that the festival to throw another separate weekend in Brazil next year. This would go along with a double weekend at the original location Belgium and Tomorrowworld in the USA. You can see where this is all getting a bit too much. What was once a gold-dust ticket is now accessible to everyone.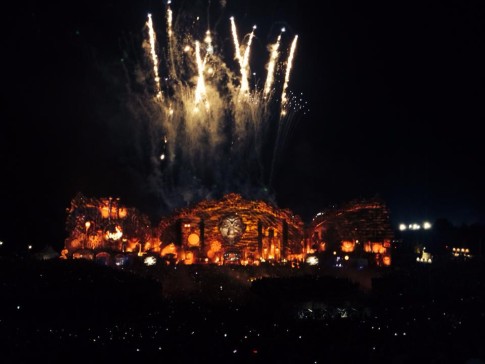 Tomorrowland has joined the likes of Ultra Music Festival and Electric Daisy Carnival in making what was a one off weekend into a chain of shows across the globe.
The festival itself saw superstar DJ sets from Hardwell, Tiesto, Carl Cox, Armin Van Buren, Steve Angello, Martin Garrix and many more. Festival goers were once again treated to a vast array of stages decorated with wild and fantasy orientated decor, as tonnes of fireworks lit up the festival sky of an evening, which all makes for a surreal experience.
One of the shows special moments came on Friday 18th July when Armin Van Buren closed the Tomorrowland mainstage after its first day. The previous day had seen Malaysian Airlines MH17 flight brutally and coldly shot down over Ukraine by Russian rebels, killing nearly 300 people on board. Van Buren played a special record at the end of his set, dedicating it to all those who lost their lives. This was, for some, the first time they had heard of this terrible news and a strong moment in festival history, for sure.
For Tomorrowland, it will take place in three countries on three different continent as of next year. A recommendation in upcoming dance festivals with that unique buzz for 2015 would have to be Hideout Festival in Croatia and Creamfields in Liverpool, which seems to have really turned up its game since flooding caused early closure in 2012.