At some point in our life the majority of us have sat down and watched Australian soap operas, whether we really like it or not. And there are some out there who really do like it. But never did we think that the country's most popular soap opera, Neighbours, would create an influx of musical recording artists years down the line. The latest being that of Guy Pearce, who once stared as Mike Young during the late 80's for just under 500 episodes. Pearce even had 12 episodes in rival soap Home and Away in the early 90's!
Pearce, who is also better know for Hollywood acting having stared in films such as 'L.A. Confidential', 'Memento', 'The Time Machine' and more recently in 'Iron Man 3', has this week released his first ever single as a recording artist.
The 46-year-old joins the likes of Jason Donovan, Kylie Minogue, Holly Valance and Delta Goodrem in the music industry, post-Neighbours, and has been working on a debut album called 'Broken Bones'. The album is set to feature an array of keyboards with top keyboard player, Eddie Rayner, producing some of the album. According to reports, 'Broken Bones' will be released in November.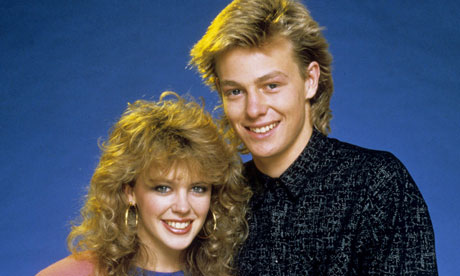 In terms of Neighbours and its alumni, it seems it has an even greater job prospect thanks to some of the following who starred in the soap: Hollywood legend, Russell Crowe, appeared in four episodes and sported an incredible mullet. Nicky Whelan, famous for a role in Scrubs, also started her career on Ramsey Street and has now made it big in the States.
And funnily enough, recording artists have even had a cameo in the soap. Lily Allen was part of one show for Neighbours and she isn't even Australian!