The boy from Canada has become the lead man for an array of partying, disobeying, reckless driving, paparazzi attacks and now, a list of celebs he has really p****d off. Way back in 2009, we all thought Justin was a sweet innocent boy, from a Christian family. Discovered on YouTube and destined to stay grounded and down to earth in his eventual success, right?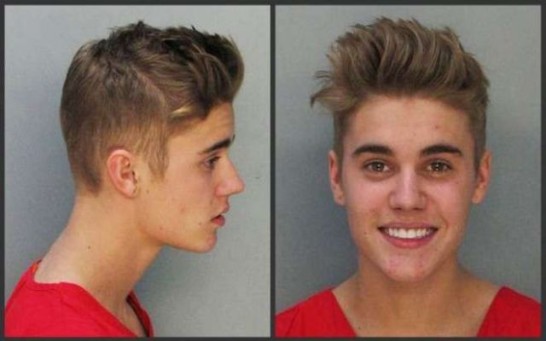 So what happened? What were the main events that made him a worldwide a**hole and put him on Orlando Bloom's hit list?
It all sparked off back in 2010. Justin was accused of assaulting a 12-year old at a US Laser Quaser. He was later cleared of charges by the police, but it is still poor start to a downward-spiral career.
His major altercations began with the Selena Gomez phase in 2012. Dating the American sweetheart became a viscous battle with the paps. In May 2012, Bieber was involved in a minor scuffle with a pap when leaving a mall with Gomez. This led to the photographer contacting and pressing charges with the police. The pap said that Bieber kicked and punched him, however, Biebs was let off as there was not sufficient evidence.
Then a calamity of events start. The singer was pulled over for reckless driving whilst trying to escape the paps. He then moons all of his fans on Instagram, just after splitting with Gomez and then gets into a major scuffle with British paps which is filmed. Well into 2013 and he collapses on stage at a concert in London and is two hours late on stage.
Then the enemies come. Jon Bon Jovi slams Bieber for showing up late to concerts saying: "You're an a**hole, go to f***ing work!"
In 2014, he announces his retirement from music, which is laughable in itself, however appealing it sounds.  Turns out it was just a prank, much to the disappointment of genuine music lovers everywhere.
In a nightclub earlier in June, Bieber approached the Wolf of Wall Street star Leo DiCaprio only to be shunned and shoed away. DiCaprio wasn't happy with the way Beibs was apparently "strutting his stuff around the club, walking around shirtless and scoping for chicks". Leo was said to have waved him off and thus an enemy was born.
Shortly after and recently, in July, things went to another level with celeb enemies. Outside a restaurant in Ibiza, footage showed a clip of Bloom actually taking a swing at Bieber. The singer was said to have said something rude about Bloom's ex-wife, model Miranda Kerr. Bieber had 'hung out' with Kerr and it seemed to have hit a nerve in Bloom. The fight was broken up quickly and Orlando has gone down as the victor in the showbiz world.
With such a variety of problems and enemies, it's hard to see where it will all stop for Justin.