After many years of musical haven, many cameos in 50 Cent videos and ultimately years as the top digital music model – Apple retired the iPod Classic on Tuesday after a 13 year spell as the 'Classic' MP3 player for the world.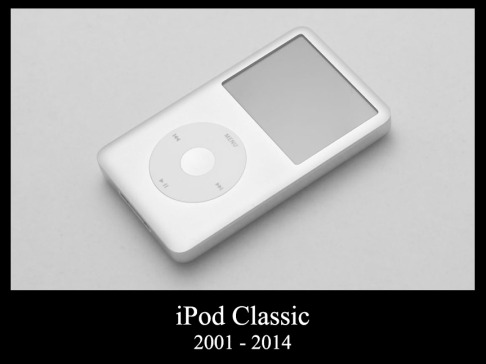 Six generations have passed since the first way back in the definitive year of 2001, including some truly iconic designs. However, now Apple's iPod classic will be no more in stores around the world for music fans to ponder. The action came in the light of Apple's unveiling of the new Apple Watch and iPhone 6. And without a word from the California based tech giants, those seeking only audio and music platforms are left to the iPod Touch, Nano and Shuffle.
Apple could give you various reasons as to why the Classic has been discontinued, but at the end of it all, the iPhone and iPad have cut massively into sales, especially in the light of music streaming over MP3. It could be highly anticipated that the Nano and Shuffle may follow suit in the future.
The first 'iPod' was seen to be one of the ground-breaking technology devices ever made, and music fans will be sad to see it go. For many, it was the definitive tool you would take with you to get lost in the world of your own music. It never had the distraction of someone able to bug you on the phone or hassle you on social media. Also, there is something very endearing about the raised directional buttons that have been lost in the touch screen generation.
So it seems now, that sentimentality for the past cannot keep the world's iconic Apple music device from a world surrounded by larger screens, more apps and less concern for storage needs. For music and MP3 fans alike, the iPod Classic will never been forgotten.