If anyone knows Rod Stewart, then they'll know he is football bonkers. For years his obsession with Celtic FC has been made a public distress. And in regard to this, the old timer has spent years and various parts of his concert kicking footballs into the crowd – sounds bit strange, we know. But anyway, it's always been a way for Rod to offer his fans a memorable souvenir from the show.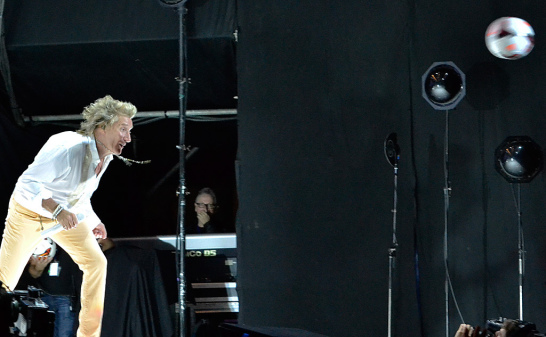 However, back in autumn 2012, a lady named Mostafa Kashe got a little bit more of a souvenir than she bargained for; in fact she got two. First, she got the football, but secondly, she got it straight in the face from Stewart. Not only did she get it in the face, she got a lovely broken nose to go with it. Sounded like a night to remember under the lights of Vegas.
The incident took place at Las Vegas' famous Caesars Palace as part of Mr Stewart's residency at the venue. Since then, Kashe has gone on to sue the proud Scot for his unlucky accuracy that October night. She is currently seeking £6,000 plus attorney fees from Stewart and has gone on to say that the incident has left her with lingering problems including a lessened sense of smell.
In reply, Stewart seems to be fairly un-phased by the situation, offering up a response of "It's a contact sport". Talking about the incident to TMZ, he said: "The show just wouldn't be the show if I stopped kicking out those footballs." He claims that kicking balls into the crowd is particularly vital for his performance of his classic song Maggie May.
It seems fans have been warned before about his obsession with kicking these balls during performances. Back in 2013, fans at his UK gigs were warned with signs on the doors at each venue stating: "Footballs will be kicked into the audience during the performance."
Someone should have surely given Ms Kashe a heads up!