Worldwide domination is already on the cards for British singer/songwriter James Bay after his critically acclaimed debut album, Chaos And The Calm was released to the world last week.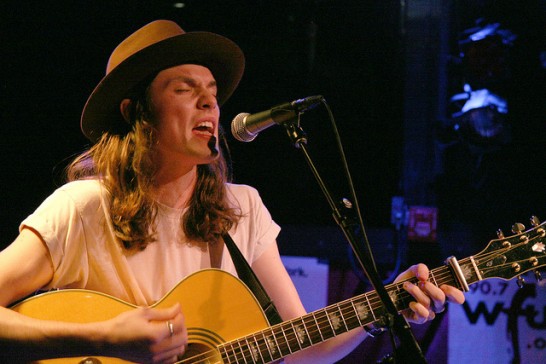 Signed and released on Republic Records, the man in the hat has had his album debut at number 1 on the official charts in the UK, as well as hitting the number 1 spot in Ireland and Switzerland. His recent success hasn't stopped there either, as he hit the number 1 spot for singles and album in Ireland, knocking off a similar success story, Hozier. He joins a select club that have achieved this feat in Ireland over the past half a decade, including household names such as Eminem, Bruno Mars, Adele and Katy Perry.
Not only has his single 'Hold Back The River' helped him earn double-platinum sales in Australia, but his album has reached #1 on iTunes in over 20 territories, such as the UK, Australia, New Zealand, Switzerland, Austria, Ireland and more, including the US.
Not bad for the guy from the small town of Hitchin. He now performs at London's iconic venues including opening for The Rolling Stones at Hyde Park and also opening for two completely sold out tours with Kodaline, Tom Odell and John Newman. What's more, he is becoming popular stateside…
Here are his up and coming tour dates:
Monday March 16, 2015 – 'Bowery Ballroom' New York, NY
Monday April 27, 2015 – Mod Club – Toronto, ON, Canada
Wednesday April 29, 2015 – Irving Plaza – New York, NY, USA
Thursday April 30, 2015 – Paradise Rock Club – Boston, MA, USA
Friday May 01, 2015 – 9:30 Club – Washington, DC, USA
Sunday May 03, 2015 – The Trocadero Theatre – Philadelphia, PA, USA
Tuesday May 05, 2015 – Metro – Chicago, IL, USA
Thursday May 07, 2015 – Bluebird Theater – Denver, CO, USA
Friday May 08, 2015 – The Depot – Salt Lake City, UT, USA
Sunday May 10, 2015 – The Showbox – Seattle, WA, USA
Monday May 11, 2015 – Wonder Ballroom – Portland, OR, USA
Tuesday May 12, 2015 – The Independent – San Francisco, CA, USA
Thursday May 14, 2015 – The Fonda Theatre – Los Angeles, CA, USA
Will you be going to any of these dates?