Commuters and onlookers were treated to an unusual sight on the S train platform at Grand Central Station, New York, last week. Rock legends U2 spent their Monday evening busking in the underground station in what has to be one of their smallest shows in decades.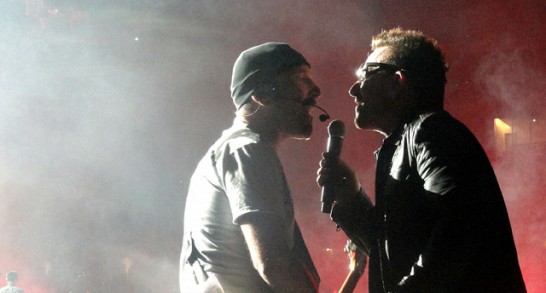 U2 have to be one of the world's most unusual bands when it comes to marketing themselves. Last year saw the band bust their way onto everyone's iPhone for free, which upset many and ended in an embarrassing reversal for U2 and Apple, with the band issuing a toe-curling apology. This year they have chosen newer avenues to promote their music, with their "Innocence + Experience" tour coming up.
Commuters were treated to three songs from the band – 'Beautiful Day', 'Angel of Harlem' and 'Song for Someone'.
The band's performance in the subway station was a sketch as part of The Tonight Show starring Jimmy Fallon. U2 were planned to perform every night for a week on the US chat show last year, however injuries sustained by Bono during a bike accident in New York prevented this taking place, along with other promotional duties.
The Irish foursome's latest tour starts in Canada this week and the whole North American tour will conclude in New York on July 31. For those in Europe hoping to see the band gig this year, the European Tour will commence on September 4 and will take them through to November for their final show of the leg in Paris on November 15.