After a hectic summer for the legendary rock band, Foo Fighters gave fans at Milton Keynes a night they'd never forget last Saturday.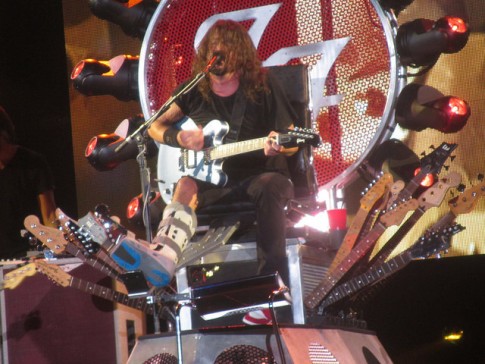 The band were joined by members of Queen and Zed Zeppelin in a super group appearance that saw them begin a series of rescheduled gigs throughout the UK. Dave Grohl and his men were forced to cancel several dates in the UK including a headline slot at Glastonbury this summer due to Grohl breaking his leg on stage during a performance in Sweden.
Foo Fighters performed to a full capacity MK Bowl with a two-and-a-half hour set from a huge, motorised throne, as his leg rehabilitation continues. Grohl said: "We came back for you, we waited a long time to be here." During the show he apologised to the fans for the delay.
The gig was the first of two moved from Wembley Stadium in London after the accident and the front man said: "It's been about eleven weeks since the incident. The last thing I wanted to do was cancel shows. I hate cancelling shows. I'm sorry for making you wait so long."
Grohl then continued to play an extended set, saying: "Who's going to lose their voice first. Not me."
The end of the set saw the band joined by Queen's Roger Taylor and Led Zeppelin's John Paul Jones as they performed Queen's classic "Under Pressure".
"I don't know if ya'll have ever seen a super group? Well, This is a super-duper group," joked Grohl.
The band also played Edinburgh in Scotland on Tuesday as part of their tour.