It's totally unlike Kanye West to steal the show, right? The US rapper and self-proclaimed genius managed to work off of Taylor Swift to give another gut wrenching, utterly cringe-worthy moment in showbiz history after accepting the Michael Jackson Video Vanguard Award in a mammoth 13 minute speech. Receiving the award from America's sweetheart, Taylor Swift, whom he had already embarrassed a few years back if you remember, he used his time to reflect on his life, work, artistry and consumer culture, as well as his rip-roaring relationship with the award shows (think back to the Taylor Swift blunder).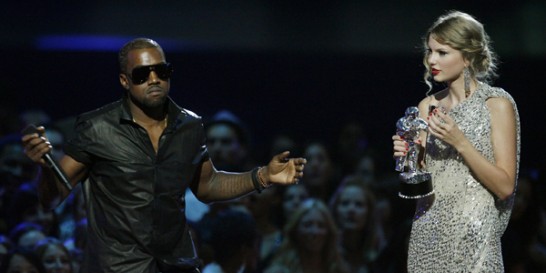 However, the audience and viewers must have been tipped over the edge when West declared his next intention, before walking off the awards stage:
"And yes, as you probably could've guessed in this moment, I've decided in 2020 to run for president"
Another of our favourite idiots also helped share the limelight with West. In one of the most anticipated moments of this year's VMAs, Justin Bieber took to the stage in spectacular fashion by reaching new heights, taking flight across and above the crowd, singing a medley of his greatest hits and newly released single "What Do You Mean?".
What's more, the star finally emerged on stage at the end of his performance before blubbering like a girl, apparently due to a few mishaps and the reception he received. Ah Justin, you must really be a changed man.
Winners from the night include Taylor Swift who won Best Video with "Bad Blood" and Best Female Video, Best Pop Video with "Blank Space", Mark Ronson and Bruno Mars who won Best Male Video with "Uptown Funk". Fall Out Boy snatched Best Rock Video with "Uma Thurman" whilst Nicki Minaj won Best Hip Hop Video with the controversial "Anaconda".