It seems we are mentioning the guy at least once at month, but he just can't stay out of music industry headlines. Kanye West is once again the talk of the town, this time after igniting what already seemed to be a rivalry with American sweetheart Taylor Swift.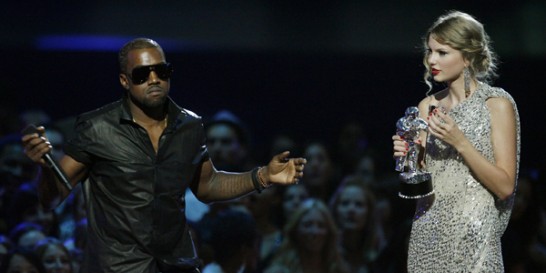 As we approach the release of Kanye's 4th album, he felt necessary to realise one line in a new song which we think may upset not only Taylor Swift, but also Kimmy K, his wife and mother of his child.
In the song "Famous", he raps: "I feel like me and Taylor might still have sex, yeah I made that b***h famous."
Now, not only is that quite rude towards Miss Swift in insulting through cursing, but claiming you "might still have sex" with someone, whoever it be, when you're married is surely unacceptable, right?!
Whilst Kim or any of the Kardashian faithful are yet to comment on the lyrics, Taylor and her people have had some say on it.
"Kanye did not call for approval. But to ask Taylor to release his single "Famous" on her Twitter account."
So the dude actually thought after making such comments he could get Swift to promote it, again reiterating why Kanye West, the self-proclaimed genius, is an absolute dumb a**.
Her publicist when on to say: "She (Swift) declined and cautioned him about releasing a song with such a strong misogynistic message. Taylor was never made aware of the actual lyric, 'I made that bitch famous'."
West has since received a strong backlash on social media and has gone on to say that he "called Taylor about the line" saying she "thought it was funny".
Hmm, sure thing Kanye.