Iomoio Website Review
As well as Iomoio being a very easy-to-use website, I have also been impressed with the speed of their downloads. Whilst this isn't the cheapest website we have listed, with tracks, no matter how long, being priced at only 16¢, there's still no way you can complain about the cost! If you need more convincing, check out some other good points to the site...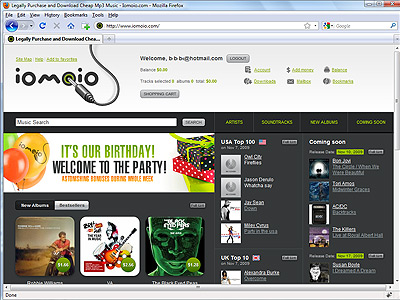 Credit Bonuses

If you top up your account with $32, they will give you $16 additional credit for free. Even better, if you add $48 to your account, the bonus is increased to a whopping $32.

Free Tracks

After registering for an account, Iomoio credit your account with enough funds to download any two tracks from their huge catalog completely free. They must be confident of their service to do this before you even deposit any money into your account!

Quality/Price

Most of the MP3 files on the site are provided in a bitrate of at least 192 kbps, with many being as high as 320 kbps, meaning you get a lot better quality for your money (and each song is only 16¢).

Website

While the other websites reviewed on this site look visually amazing with their custom graphics, Iomoio have placed the emphasis on website usability, which is why it is very easy to find what you are looking for in no time at all.

Music Archive

Have you ever heard of "Sten Nilsson & Joybells" or the "Flying Burrito Brothers"? No, we haven't either! But if you had, and were looking for MP3s of their work, you'll find it in the extensive Iomoio MP3 archive.
Of course, no website is perfect, and even Iomoio has its faults, but there aren't many. Unfortunately they have recently removed their use of PayPal as a payment method, which was a very convenient way of paying. As previously mentioned, their prices are not the cheapest, but on the flip-side, the quality of the tracks is usually quite high.
However, with all the pros and cons weighed up, Iomoio is in our opinion the best website from which to download music for less, just don't ask why it is called Iomoio (or even how to pronounce that) as we have no idea!
comments powered by