MP3Caprice Website Review
Being the newest site to an industry is often both a good thing and a bad thing at once. On the bad side, you have to compete with other sites that have already got lots of customers, but on the good side, you can see what your competitors are doing and then do it better! Which is what MP3Caprice seem to have done, by combining a well designed, easy-to-use website with excellent value MP3 music.
Here are some of the reasons you should consider using MP3Caprice at your cheap MP3 download source...
Cheap MP3s!

MP3Caprice is one of the cheapest sites from which to download music, with every track costing only 12¢ (which is about 7 pence).

Low despoit amounts

As with other sites that offer cheap MP3s, the process used to buy music is that of a deposit system. But where MP3Caprice.com stands out is the fact that the amount you need to deposit is lower than all the other sites, with the minimum amount being just $10. Not only that, but when you top up with this amount, you will be rewarded with an extra $2 in your account! Which leads us onto...

Top-up bonuses

Otherwise known as "free money"! Currently when you top up your account with MP3Caprice, they will reward you with upto an extra 50% of the amount you deposited again. That means if you add $50 to your account, they will give you an extra $25 for free! Of course, you don't have to spend that much to get a bonus - you can deposit as little as $10 and you will still get $2 added to your account, or spend $25 for an additional $10 free!

Free Tracks

Another way you can be rewarded on MP3Caprice.com is through their review-and-reward program. When you write an original review for an album that gets accepted onto the site, your account will be credited with $2 which you can use to spend on any music in their store.

Tell-a-Friend Program

If you use their tell-a-friend link and your friend signs up and makes a deposit onto their account, your balance will be increased by $10!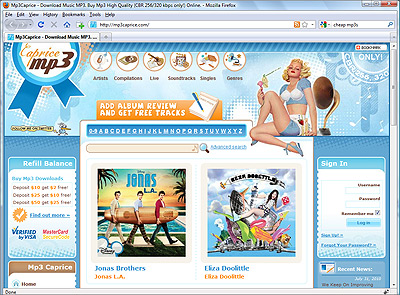 comments powered by