PayPlay Website Review
Probably the most appealing aspect of PayPlay is its enormous music collection. At the time of writing, they have 468,250 albums in their archive, consisting of 5,364,317 individual tracks. This means that if you were thinking of using one of the other cheap MP3 websites but they don't have the specific song or album you were looking for, PayPlay has a much better chance of stocking it.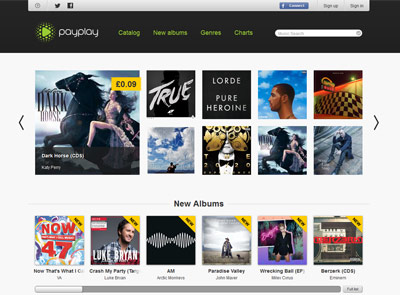 The value is pretty good - they're not the cheapest website we review - but paying a few extra pennies per track may not put you off seeing as they will more than likely have the music you want. If you work in US Dollars, each track costs just $0.20. If you're from the UK, this equates to just 12p per track. A nice feature of the site is that they display prices in your local currency.
Here are some other plus-points of using PayPlay...
2 free tracks

If you confirm your email address after registering with PayPlay, they will credit your account with enough money to download two tracks for free.

Huge music archive

As mentioned above, the size of their music collection is vast, so you're sure to find what you are after.

Regular promotions

As with many of the cheap MP3 websites we review, PayPlay often finds ways to incentivize you to use their service. These usually come in the form of extra credit, added when you top up your balance.
It's a shame that the price of tracks are a little higher than on the other sites we review as PayPlay really is a good source of music. Not that $0.20 for a song is excessive, obviously, but when you are in the cheap MP3s market, there is some tough competition!
We also find it strange that sites such as this display social media links on them, even though they are so poor at keeping them updated! When you see that they haven't bothered to post to them in well over a year, it does make you wonder how contactable they would be should you ever need to.
comments powered by