Artist Profiles > Avicii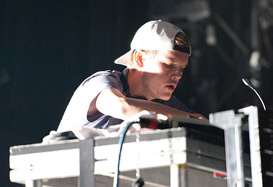 Real name Tim Bergling, aka Avicii, from Sweden, launched his music career through the medium of music blogs, taking influence from fellow Swedish DJs and producers Steve Angello, Sebastian Ingrosso and Axwell, as well as Daft Punk and Tiesto. His first song, released under the name of Tim Berg, was 'Seek Bromance', which became one of the songs of the summer back in 2010.
Since then, he has gone on to earn residency in Privilege, Ibiza, releasing hit singles throughout the summers of 2011 and 2012, mixing it with the best throughout worldwide festivals. Avicii's career went to even greater heights when he took on the genre of country-house, a strange sound that saw him release his first album 'True' in 2013. He continues to release top 20 hits and still maintains that fresh DJ flavour about his work.
Discography
True (2013) - Over 1,000,000 copies sold worldwide - pretty good for a DJ!
Stories (2015) - As yet unreleased, he has worked on over 70 songs for this album! Yes, 70!
Avicii's Biggest Hits
Seek Bromance (2010)
Levels (2011)
I Could Be The One (2012)
Superlove (2012)
Fade Into Darkness (2012)
Wake Me Up (2013)
Hey Brother (2013)
5 Things You Didn't Know About Avicii
Avicii teamed up with Lotus F1 team for a track called 'Spin'
He had a huge fallout with GQ magazine after being given a poor write-up
He's worked with some pretty cool singers - notably, Aloe Blacc, Lenny Kravitz and Leona Lewis
He has one strange musical influence that may shock you - Gene Simmons of Kiss!
Avicii is also currently doing some modeling. The good-looking chap models for Ralph Lauren no less!