Artist Profiles >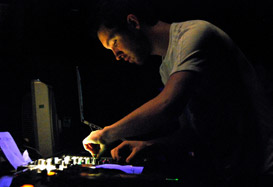 Calvin Harris started off a hopeful producer/singer from Scotland, making funky disco tunes which launched him onto the British music scene. His first two albums included electro jams which became favourites across the land. Things changed in 2012 when Harris collaborated with stars like Rihanna, to which Harris was offered a super residency at the Hakkasan in Las Vegas. He has then taken on the role of 'King of EDM', as dance music hits its peak across the globe, most notably in the United States, where he now resides.
Since then, he has gone on to become the the worlds richest DJ, earning a reported $66 million in 2014 alone. Harris continues to work with the best in the business, whilst gigging relentlessly, watching the money fly in. He has also had public relationships with other stars, including a romance with Rita Ora and a few cheeky snogs with Ellie Goulding in his music videos.
Discography
I Created Disco (2007) - Just 100,000 sales in the UK, reaching number 8
Ready for the Weekend (2009) - Reached number 1 in the UK
18 Months (2012) - An album full of huge hits and number 1s, making him the world's biggest DJ!
Motion (2014) - Includes collaborations with stars such as Alesso, Ellie Goulding, John Newman and Gwen Stefani
Calvin Harris's Biggest Hits
Acceptable in the 80s (2007)
I'm Not Alone (2009)
Bounce (2011)
Feel So Close (2011)
Sweet Nothing (2012)
Under Control (2013)
Summer (2014)
5 Things You Didn't Know About Calvin Harris
His actual name is Adam Richard Wiles - doesn't sound as cool, does it?
Pre-stardom jobs included working in a fish factory and a supermarket
He released eight singles from his third album "18 Months", all of which hit the top ten, breaking a record set by the late Michael Jackson
His dream was to be a footballer
He won the Ivor Novello Award for "Songwriter of the Year" in 2013
You must know (and love) two or three Calvin Harris tracks, everyone does, so why not save some money and download his cheap MP3s from one of the following sites?