Artist Profiles > Fall Out Boy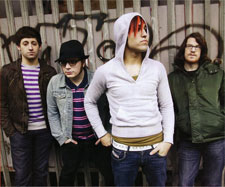 Fall Out Boy first emerged in the early 00's as the first emo-pop band of their kind. From the Chicago area, they started polluting our airways with their grungy pop-rock music which managed to sell them over 4 million albums and produce a hatful of top 40 hits.
Their underground star status was fuelled by the look and feel, with member Pete Wentz becoming something of an emo icon - he even got his own clothing line out of it, falling into fame by dating the popular Ashlee Simpson of that time.
Later albums became more difficult and significantly tougher to write as time went on. The band took a more prominent break between 2012 and 2015, but are now back to their best with their latest studio album "American Beauty/American Psycho".
Discography
Take This to Your Grave (2003) - Their debut album for Island Records
From Under the Cork Tree (2005) - Their biggest, featuring "Dance, Dance" & "Sugar We're Goin Down"
Infinity on High (2007) - 260,000 copies sold in week 1!
Folie a Deux (2008) - Pete Wentz features lyrically a lot!
Save Rock and Roll (2012) - UK and US #1
American Beauty/American Psycho (2015) - A rebirth for the band
Fall Out Boy's Biggest Hits
Dance, Dance (2005)
This Ain't a Scene, it's an Arms Race (2007)
What a Catch, Donnie (2008)
20 Dollar Nose Bleed (2008)
Centuries (2015)
5 Things You Didn't Know About Fall Out Boy
They hold the record for most interviews conducted in 24 hours, a whopping 72!
Their guitarist Joe Trohman once slept in a dog cage
Better looking member Pete Wentz once stared on "One Tree Hill"
Fall Out Boy and acting legend Bill Murray both share the same home town - Wilmette, Illinois
The band always use hip hop, featuring artists like Lil' Wayne and Lupe Fiasco
With classics like "Dance, Dance" and "Sugar, We're Goin Down", Fall Out Boy should take up at least 2 spots on your playlist. So if you don't already own them, use the links below to download these or other songs in MP3 format (compatible with iPhones and iPods), much cheaper than from elsewhere online.