Artist Profiles > Iggy Azalea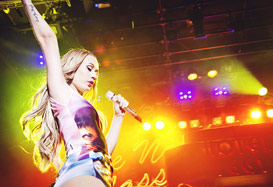 From the brilliantly named Mullumbimby in New South Wales, Australia to LA – Iggy Azalea is the world's biggest female rap star. She is one of the unlikely crossover success stories, coming from a high profile Australian model career to the competitive world of hip-hop in the USA, taking influence from Missy Elliot, TLC and 2pac. Since moving to the States at 16, her journey took her from east to west coasts, to the eventual release of mix tapes in 2011.
Iggy has since gone on to collaborate with stars like TI, J-Lo and Ariana Grande. Azalea continues to model and influence the fashion industry worldwide. In 2015, she will also step into the world of acting for the first time, appearing in the seventh installment of the Fast and the Furious film series. She is now very much living the American dream.
Discography
The New Classic (2014) – A top 10 record worldwide, her first album includes all of her hits and collaborations, with gold certification in Australia and Canada
Iggy Azalea's Biggest Hits
Fancy (2013)
Problem (2013)
Pu$$y (2013)
Work (2013)
Walk the Line (2014)
Goddess (2014)
Change Your Life (2014)
5 Things You Didn't Know About Iggy Azalea
TI is literally her mentor – he has gone on to make her part of his Grand Hustle crew (whatever THAT is...)
She shares a billboard record with The Beatles, with her first two charting singles landing simultaneously in the No.1 and No.2 spots with "Fancy" and "Problem".
She once admitted that hitchhiking is something she would always do as a child. Erm, that doesn't sound safe to us...
She also got a fake ID at just 13 years old and would visit strip clubs in her hometown of Mullumbimby.
Her name 'Iggy Azalea' is a combination of the name of her childhood dog and the street she lived on back in Oz. Her real name is Amethyst Amelia Kelly.
She's had so many hits recently, you may want to download some of her songs. Luckily, you have found us! By following the links below you will be able to buy Azalea's music for much less than the regular online MP3 stores.