Artist Profiles > Justin Bieber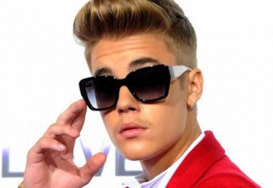 A fresh faced Youtube sensation, Justin Bieber was barely into his teens when he broke through with his first album 'My World' in 2009. Supported and founded by Usher, he went on to take the world's teen audience by storm, with a wealth of hits charting at number one or in the top 10, making him one of the most famous teen millionaires on the planet!
However, this seemed to go to young Bieber's head and he has since been caught up in an array of incidents ranging from drink driving to bust ups with Orlando Bloom in Ibiza. Pretty diva.
Still, his music and tracks are some of the biggest selling of the modern pop era and in just 6 years is he one of most decorated artists of our time. And despite declaring his "retirement" from music at just 20 years old, we are sure he'll be back to fill our airways sooner rather than later!
Discography
My World (2009) - Debut studio album went to number one in most countries.
Under the Mistletoe (2011) - Christmas themed, this album shipped over 200,000 albums in one week in the US and ended up going platinum.
Believe (2012) - Now one of the most controversial teenagers on the planet, this album outsold the other two with ease. 1.2 million albums sold in the States.
Bieber's Biggest Hits
One Time (2009)
Baby (2010)
That Should Be Me (2010)
Boyfriend (2012)
Beauty and a Beat (2012)
5 Things You Didn't Know About JB
In 2010, he played a teenager in CSI. He was shot and killed after 2 appearances.
He currently lives in Britney Spears former home in LA - we would love a tour!
His haircuts cost up to $750.
If he wasn't a singer, he says he would be an architect. Yeah right, Justin.
He can solve a Rubix cube in less than 2 minutes. (Hmmm, has anyone actually witnessed this??)
Like him or loathe him, you can't deny his ability to release hit after frustratingly-catchy hit! Don't pay over the odds for your cheap Justin Bieber MP3s - use the links below to buy his songs and full albums for only a few pennies per track.