Artist Profiles > Kanye West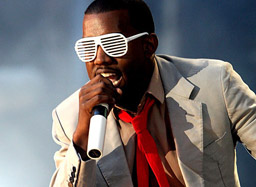 There is no doubt about it, Kanye West is one of the most famous, talked about human beings on the earth today. Caught up in a wave of controversy since day one, he has released some of the finest hip hop music since the millennium, before seemingly crashing down to earth by ruining a host of award shows with embarrassing actions, marrying a Kardashian and claiming he will run for presidency in 2020.
West now focuses most of his time in the fashion world, but still continues to make music. He has sold over 21 million albums and 66 million digital downloads in the US alone, which quite frankly makes him one of the best-selling digital artists of all time. He is also one of the wealthiest musicians out there, with a worth of $100m.
Discography
The College Dropout (2004)
Late Registration (2005)
Graduation (2007)
808s & Heartbreak (2008)
My Beautiful Dark Twisted Fantasy (2010)
Watch The Throne (2011)
Yeezus (2013)
Biggest Hits
Through The Wire (2003)
Jesus Walks (2004)
Touch The Sky (2006)
Stronger (2007)
All Of The Lights (2010)
N*ggas In Paris (2011)
Only One (2014)
5 Things You Didn't Know About Kanye West
He considered becoming a porn star before making it in music
He has won 112 awards in total to date, including 21 Grammys
After having a serious car incident in 2002, he had a metal plate placed in his jaw
His nickname is 'deep house' - though we're not sure why?
50 Cent promised to quit the music industry if Kanye were ever out sell him. Unfortunately, Kanye did so by 1.1 million records and we're yet to see 'Fiddy' dip out.
Love him or loathe him, you can't deny that West knows how to put together a successful track. Luckily, you don't have to be as rich as him to be able to buy his music: The links below will allow you to purchase his songs and albums much more cheaply than the more well-known online music stores.