Artist Profiles > Katy Perry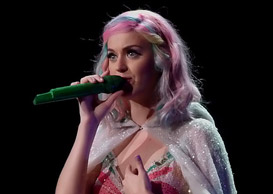 She came from a Christian family, singing Christian pop; a real little saint. Well, that was until she found the real music industry and we found out what a sinner she really was. She told us she kissed a girl and she liked it. Quite frankly, we liked it too. Katy Perry was born, a real edgy pop star with a huge sex appeal. She popped out song after song into the late 00s and became an international superstar.
She hasn't come without controversy. Her short marriage with Russell Brand became the topic of showbiz focus during the whole facade and she was also slammed by some Muslims for "portraying blasphemy" in her video for her single Dark Horse. More than 60,000 people signed a petition claiming offence after Perry is shown to burn a man wearing a pendant with the word "Allah" on it.
It's been almost two years since a studio album from Perry, so we expect she'll be back with something sooner rather than later!
Discography
Katy Hudson (2001) - Yeah, we don't remember this one
One of the Boys (2008) - Perry hits our screens (and dreams)
Teenage Dream (2010) - Full on pop stardom, her most successful album
Prism (2013) - Mature Katy and her latest album to date
Katy Perry's Biggest Hits
ET (2010)
I Kissed A Girl (2008)
California Gurls (2010)
Hot n Cold (2008)
Firework (2010)
Teenage Dream (2010)
5 Things You Didn't Know About Katy Perry
Well firstly, her name is Actually Kathryn Hudson
She began her career by singing Christian pop - my, how things have changed!
Her engagement to Russell Brand came after just three months of dating
Her hit song "I Kissed a Girl" was inspired by actress Scarlett Johansson
She was reportedly offered a whopping $20m to join American Idol as judge in 2013 - she declined
From "I Kissed a Girl" to "Roar", everyone on the planet (we checked) loves a bit of Katy P - so you will all be pleased to know that you can use the links below to download her music for use on any MP3 player. And of course, all of the songs and albums are cheap, with the cheapest site charging just $0.09 per track.