Artist Profiles > Meghan Trainor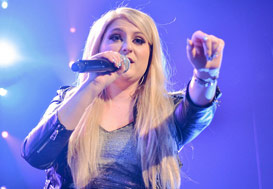 Born in Massachusetts, USA, Meghan Trainor is the up and coming sweetheart of the States pop world. She has been producing music all of her life, finding a difficult way into the industry via college performances and jazz bands, and of course YouTube.
She isn't just a pop voice - Trainor has studied guitar and keyboard, attending the Berklee College of Music's Performance Program, a special 5 week course, in 2009, receiving top marks.
She then released three albums by herself before signing a deal with Epic Records where she gave birth to the mega hit of 2014 "All About that Bass". This record has since gone global and launched her in to stardom. She continues to release singles off of her first album "Title", including "Lips are Moving". We get the feeling this girl will be around on the pop scene for sometime.
Discography
Title (2015) – An epic first album that has gone to number one in major countries over the world, including the US, UK and Australia.
Meghan Trainor's Biggest Hits
All About that Bass (2014)
Lips Are Moving (2014)
Dear Future Husband (2014)
I'll Be Home (2014)
Title (2014)
5 Things You Didn't Know About Meghan Trainor
Her hit "All About That Bass" was offered to Beyoncé and Adele before her. How lucky!
The video also featured one of the biggest stars of Vine, Sione Maraschino, who throws some serious shapes in it!
The song was the first in the UK to enter the top 40 charts purely on streaming figures.
She began writing songs at just aged 11 and started producing her own via computer at 13.
Her biggest influences are Bruno Mars and Rihanna.
Now you know all her facts and figures, check out the following links that will enable you to download her music in MP3 format for less than the major online retailers...