Artist Profiles > Miley Cyrus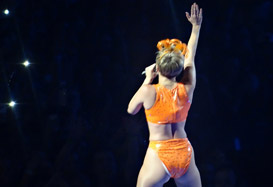 From daughter of 90's country star Billy Ray Cyrus to Disney channel sweetheart to one of the most controversial pop stars of our time, Miley Cyrus has been there and done it all. She was originally "Hannah Montana", a hugely successful Disney show, which led her to many acting roles. However, she then went on to release pop music, which has made her into the icon she is today - however you perceive her.
In 2013, she released her fourth studio album "Bangerz", which totally changed her persona. She bought in edgy fashion, sexual dance moves and a very short haircut, which has stunned the audience, but also made people crave more!
Take yourself back to August 2013 at the MTV VMA's when she performed her hit "We Can't Stop", whilst grinding up Robin Thicke on stage. Remember that? This is the current image of Miley we have - who knows what is next!
Discography
Meet Miley Cyrus (2007) - Her first album sold 4,000,000 in the US alone!
Breakout (2008) - Top 10 in charts around the world, she becomes an international pop star
Can't Be Tamed (2010) - Not her best, maybe it's time for Miley to change a little?
Bangerz (2013) - Mental Miley mode - it's all a bit crazy here!
Miley Cyrus's Biggest Hits
See You Again (2008)
7 Things (2008)
Fly on the Wall (2009)
The Climb (2009)
Party in the USA (2009)
We Can't Stop (2013)
Wrecking Ball (2013)
5 Things You Didn't Know About Miley Cyrus
When people threw flowers on stage at her Dads gigs, she would donate them to local hospitals
She wakes up at 5 am every day to read the Bible
Her actual name at birth was Destiny Hope Cyrus
She has a terrible case of Arachnophobia - the fear if spiders - don't we all?
Her godmother is legendary actress and country singer, Dolly Parton
Use the links below to download some or all of her music from only 5¢ per track.