Artist Profiles > Sia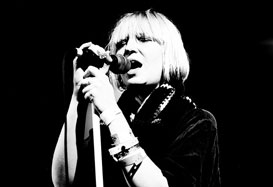 You may not have known it, but Sia Furler is a bit of a seasoned pro in the music industry. She has released albums for close to 20 years now and written songs for some of the biggest pop artists around. Born in Australia, her undeniable musical and artistic talent has seen her write songs for Rihanna, David Guetta and Beyoncé, whilst her own solo career has stuttered along the way.
It wasn't until the release of her 2014 album '1000 Forms of Fear' that the world has stood up to her attention. In all of her performances she chooses to keep her face covered in a Daft Punk manner, revealing one of the most powerful voices in pop behind the disguise. Some of her latest singles, including 'Elastic Heart', have gone on to top charts worldwide, with her natural gift for writing powerful, catchy pop songs proving popular all over the globe.
Discography
OnlySee (1997)
Healing Is Difficult (2001)
Colour the Small One (2004)
Some People Have Real Problems (2008)
We Are Born (2010)
1000 Forms of Fear (2014) - Take note of this album, her biggest to date and the collection of tracks that have launched her to the front of the pop conga line!
This Is Acting (2015)
Sia's Biggest Hits
Elastic Heart (2013)
Chandelier (2014)
Big Girls Cry (2014)
Eye of the Needle (2014)
5 Things You Didn't Know About Sia
Like most Australian celebrities, she featured in an episode of Home and Away (1997)
She wrote the hugely successful Rihanna hit 'Diamonds'
She tragically lost her boyfriend in 1997
She's bisexual
She sang backing vocals for Jamiroquai back in the day!
Surely everyone needs "Elastic Heart" in their MP3 collection? The links below will take you to websites on which you can buy Sia's songs and albums at cheaper prices than you thought possible!